If you want to learn how to get your fishing license in Andalusia, keep reading, we are going to explain everything, the types that are available, the price and how to get it both in person and with the computer online.
Below we will explain all the licenses within the two general Inland and Maritime Fishing Licenses.
Andalusia fishing license
License types
Inland fishing: it is carried out in rivers, reservoirs, lakes, etc… It is issued by the department of hunting and inland fishing.
Sea fishing: the one that is carried out on the coasts or in the sea.
Andalusia Continental Fishing License
All species except Trout (P)
Trout (P base license surcharge)
Inland Fishing Auxiliary Means Licenses
Motor boat (E1)

Rowing boat (E2) to use in a boat, kayak, etc...
Requirements to get the Continental fishing license in Andalusia:
Being a enabled fisherman.
Having a Registration Number (NIR) (It is achieved by registering and registering your boat in the Andalusian Registry of Hunting and Continental Fishing)
Having the fisherman's card.
Not be disqualified from fishing for judicial reasons.
Prove that you have a civil commitment insurance.
Pay the Tasas corresponding.
What is a licensed fisherman?
To be a qualified fisherman you have to take a course with a syllabus and then take the course exam, it is necessary pass the exam what they do to you in the course of fisherman (which is carried out by the Department of hunting and continental fishing itself). Below we explain what the course consists of.
Course to obtain the inland fishing license
This course can be done through the council itself or you can do it in entities that are approved by the community.
The course syllabus:
Topic 1. General peculiarities of the aquatic environment: its flora and fauna.
Topic 2. General peculiarities of fish.
Topic 3. Andalusian continental fish fauna.
Topic 4. The conservation of Andalusian continental fauna.
Topic 5. The art of fishing and its baits.
Topic 6. Legal regulation of river fishing in Andalusia.
Topic 7. Management and protection of continental fishing in Andalusia.
Topic 8. Administrative requirements of the people and their equipment for the practice of fishing.
Topic 9. Infractions, crimes and sanctions in fishing matters.
Topic 10. Captures: preparation for conservation, transfer and final consumption.
Topic 11. Ethics and behavior of fishing.
Topic 12. Possible dangers, precautions to take and performing first aid during fishing.
The Fisherman's Identification Card
It is a personal and non-transferable card issued by the Ministry of the Environment, which you can obtain once you have passed the course and have registered in the Andalusian Registry of Hunting and Continental Fishing. You can apply at this link: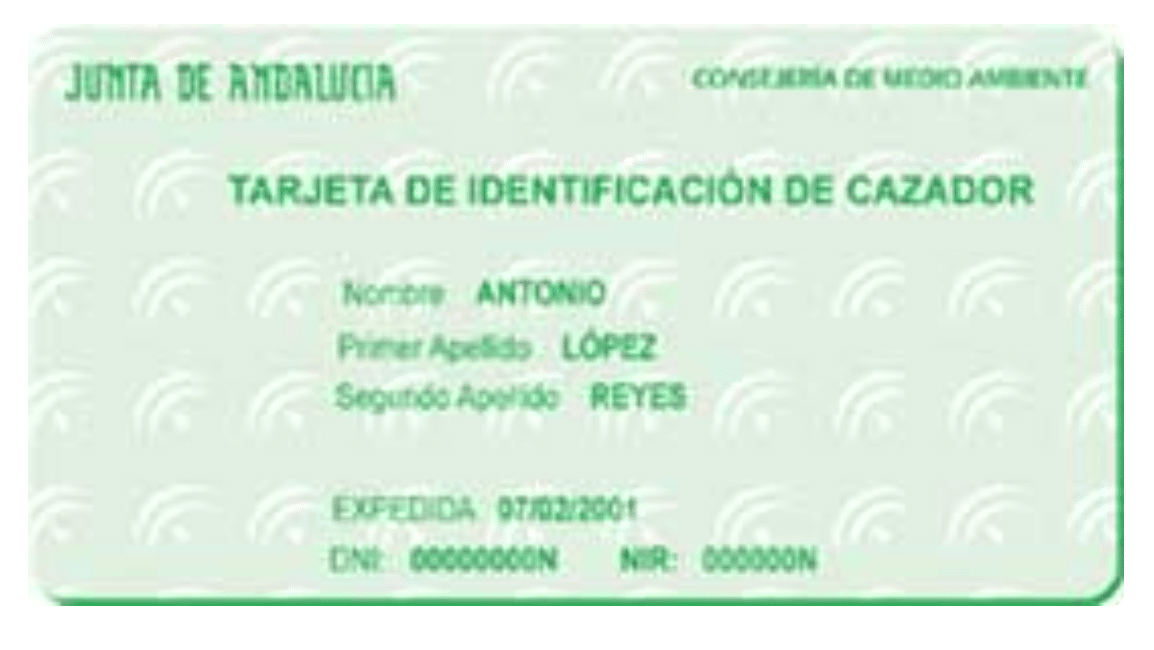 Inland fishing license prices
With the Andalusian Continental Fishing License, people over 65s do not pay fees.
license type
Price
confirm
License E1: Motor Boat
12,97 €
5 years
E2 License: Rowing Boat
6,5 €
5 years
License P: no trout
6,50 €
19,50 €
32,50 €
1 year
3 years
5 years
License P: without trout – For Minors
2,97 €
8,91 €
14,85 €
1 year
3 years
5 years
License P: with trout
Increased
from 2 to 16€
to the license
no trout
Renew Andalusian Continental Fishing License Online
Telematics or online – Inland fishing license
We remind you that you have to have the NIR in case of Fishing License or NIRA in case of License of auxiliary means of fishing to be able to request the license.
You also have to have your liability insurance of the fisherman: you will have to put Insurance Entity and Policy number.
Previously fill in the responsible declaration that you will have to attach.
ONLINE GUIDE TO GET OR RENEW THE CONTINENTAL LICENSE IN ANDALUSIA
Step 1: – Click on this link to access the website of the Junta de Andalucía and Click on Online Application.
Step 2 - Click on Start Processing
Step 3 – Choose With Electronic Certificate or WITHOUT
We recommend that you do it with the digital certificate, you will have to have Autofirma installed to be able to electronically sign the application.
Step 4 – Without Certificate:
Fill in your ID in Identification with capital letters and no hyphen.
Click on FISHING and put your NIR
Click Request
After clicking Request it will take you to: License Application or Type of License (Step 6)
Step 5 – With Certificate:
Access as Representative: If you act on behalf of someone you will have to fill in the left box:

Nif or Nie of the interested party
Nir / Nira of the interested party
Attach responsible declaration.
You can download the statement here, we recommend that you print it, fill it out and scan it. If possible in jpg format instead of pdf.
2. Access with your digital certificate, you will have to appear in the fishing register and you will be able to give Enter the box on the right.
Step 6 – License Type:
Choose if you want with trout or without
The start date of your license
Duration (1, 3 or 5 years)
Fill in your insurance information
Step 7 – Payment gateway: pay through your card the corresponding fees
Step 8 – Digital signature: will ask you to sign the application through Autofirma.
Step 9 - Once paid and signed, you can access: List Licenses
There you can download all the licenses you have requested.
Onsite – Inland Fishing License:
Download the form here that you have to have printed.
You have to go to a bank associated with the Board to carry out this process, they are:

Caja Rural del Sur (in Cádiz, Córdoba, Huelva and Seville).
Rural Savings Bank of Granada
Rural Savings Bank of Jaen
Cajamar.

Identify yourself at the checkout with your DNI and NIF
Say the type of license you want and the expiration (1, 3 or 5 years).
Submit the civil liability insurance data (mandatory).
Pay the fees corresponding to the type of license you want and its validity.
Andalusia Maritime Fishing License
If you want to fish for leisure or sport, it will always have to be without an economic interest since you will not be able to put the fish you catch up for sale, you also cannot use professional material such as fishing nets.
Holders of fishing licenses must follow the rules of the Ministry. The guidelines to follow is amount of fish that it is allowed to fish, the measures that the fish must have (there is a table of measurements), the species that permiten fish and the seasons in which you can fish and where.
The Maritime Fishing License in Andalusia has four modalities or classes, all are for the recreational sea fishing.
Documents to be submitted for all classes:
DNI, NIE or CIF of the applicant
Proof of payment of fees.
Class 1: Recreational sea fishing license from land
This license is also called license of recreational sea fishing from land is the most common and authorizes the holder of this to carry out the exercise of fishing from the beach or the coastnot in the sea.
It has a validity of 3 years and they can obtain it with a minimum of 14 years (with legal authorization from the guardians).
Class 2 and 3: Fishing license Andalusia Boat
The license from a boat, there are two classes.
Class 2 Individual: Hard 3 years and only authorizes the license holder. (Min. 14 years with the authorization of the guardians)

3 years validity
It only authorizes the owner who should have a min. 14 years old and have an authorization from the guardians)

Class 3 Collective:

Hard 1 year
The license authorizes the number of people that the boat has capacity.
Minimum 18 years
Documentation accrediting the boat (ownership, registration, etc...)
Insurance of the boat and documentation of the base port.
Class 4: Underwater fishing license Andalusia
La validity of this license will be 1 year from its date of issue and will only authorize underwater fishing to the holder of the license who must have a minimum of 18 years.
Medical certificate that certifies having the skills and abilities to perform freediving and responsible statement to comply with the requirements of the Ministerial Development Order of October 14, 1997 for the exercise of underwater occupations.
How much does a sea fishing license cost in Andalusia
| | |
| --- | --- |
| Types of maritime fishing license | Rate prices |
| Class 1: Land Fishing | €5,92 |
| Class 2: From Individual boat | €1.179 |
| Class 3: From Collective boat | €1.179 |
| Class 4: Free lung submarine | €881 |
Renew Andalusian maritime fishing license
Onsite – Maritime Fishing License:
We download the application and the shipping declaration through this link: Declaration and Application
We fill it out properly and attach the documents that we said before
We go in person to the following address to take the documents to the Territorial Delegation (Agriculture, Livestock and Fisheries Branch) of our province.
Online – Maritime Fishing License:
Without digital certificatel you can only download the model 046 Andalusian fishing license, print it out, fill it out and send it by post.
If you need a duplicate or simply check the state of your license, you can do it completely online, thanks to the LIP platform.
GUIDE TO OBTAIN THE MARITIME FISHING LICENSE ANDALUSIA
You have to have digital certificate and you can only apply for class 1 or 2 license, access the websites of the Junta de Andalucía
Step 1 - Enter the website and Click on: Obtaining or renewing fishing licenses
Step 2 - Fill in your personal data, presentation body and the type of license. Once filled click on Validate.
Step 2.1 – Choose the type of license: class 1 or 2 and if it is new or renewal (before validating)
Step 3 - You will get this screen with what you have to pay in fees. Click on: Pay and Present electronically
Step 4 – Pay the fee
Step 5 - Payment gateway. Choose how you want to pay. Once paid, you can download your license.
Fishing license Andalusia online
All fishing licenses in Andalusia can be obtained online, both the continental fishing license and the maritime fishing license.
Renew fishing license Andalusia
There are two options: Online or telematics and Face-to-face. The renewal of the Andalucia fishing license will depend on the type of license you have. The first thing you have to know is when your license expires so that you don't miss the deadline to renew it.
The renewal process is the same as when you take it out for the first time, it only varies that in the continental you have to have the course and the fisherman's card, once you have it it will be the same.
Renew Fishing license Online Board of Andalusia
To renew your fishing license electronically, we recommend that you do it from your computer. With the electronic certificate the process is faster but without it you can also renew your license.
How much does the fishing license cost in Andalusia
In the Autonomous Community of Andalusia there are different types of licenses and each one has a cost depending on the type of license and the period of validity, there are also some that have discounts for some people and therefore are exempt from paying the fees.
Andalusia fishing license duplicate
To have a duplicate of sea ​​fishing license you just have to enter Lipe and with your digital certificate click on Consultations and Duplicates of fishing licenses.
In the event that you do not have a digital certificate You will have to download the application and check the duplicate box (in case of loss) and take it to the Provincial Delegations of Agriculture, Livestock and Fisheries.
If what you are looking for is theduplicate of the identification card of the hunter and/or fisherman. You will need this card if you want to have a continental fishing license in Andalusia. In order to have a duplicate of the card in case of loss, you have 3 options:
By post: Photocopy of ID + completed application. Send it to: Apartado de Correos 1142, cp:41080 Seville, Andalusia.
In the online portal of La Caza y Pesca Continental.
Calling the Citizen Attention Service of the Ministry of the Environment.
Print Andalusian fishing license
It is always important to have your license in online format, that is, on your computer and also print it so that you can take it with you when you go fishing in case they ask for it and thus have it at hand.
Andalusian Federative Fishing License
La Andalusian Federation of Sport Fishing, offers a card that has an insurance for the fisherman and that allows take part at events and competitions for the federation to take place.
You have 8 provincial delegations, which are in: Huelva, Seville, Almería, Cádiz, Córdoba, Granada, Jaén, and Malaga.
You can also federate by belonging to a fishing school or sport fishing club, there they will inform you of everything you need to attend the tournaments.
Fine for fishing without a license in Andalusia
We always recommend that you have all your papers in order to be able to fish legally and safely in Andalusia. The fines for fishing without a license in Andalusia can vary depending on the type of water or where you are, but they range from €400 to €6.000 depending on the activity you are doing.
What can we fish in Andalusia?
Andalusia having high mountains, valleys, rivers, reservoirs, meadows, reedbeds, deltas, coast, ravines leaves us with a very high variety of fishing.
Where can you fish in Andalusia?
fishing with mainland license:
In the Autonomous Community of Andalusia you have a wide variety of places to fish. You can fish for the inland fishing license in rivers, lakes or lagoons, also in reservoirs. All areas must be free fishing and free of trout fishing.
Authorized hours for fishing: 1 hour before sunrise and 1 hour after sunset.
Authorized seasons:
a) High mountain: from the second Sunday of May to September 30.
b) Low mountain: from the third Sunday of March to August 31.
For the boga, chub and barbels:
a) Vogue: 1/05 to 31/01
b) Chub and Barbos: 1/07 to 25/02.
The rest of the species are fishable: all year
fishing quotas:
The inland water species that we can fish but only in catch and release are the following:
Each and every one of the Barbels (Luciobarbus spp).
River bogue (Pseudochondrostoma willkommii).
Chub (Squalius pyrenaicus).
Common trout (Salmo trutta).

Species that we have the possibility of fishing but with minimum size:
Sapwood (Liza spp): 25 cm.
Dancer (Dicentrarchus punctatus): 36 cm.
Captain (Mugil cephalus): 25 cm.
Lisette (Chelon labrosus): 25 cm
Seabass (Dicentrarchus labrax): 36 cm.
Flounder (Platichtys flesus): 25 cm.
Tench (Tinca tinca): 15 cm.

Fishable invaders without size limitation:
crucian carp (Carassius gibelio).
Sea fishing in Andalusia
For maritime fishing license:
You can fish in the entire coastal area of ​​the entire Andalusian territory, except: fishing reserves, artificial reefs, prohibited or perimeter areas and repopulation areas for maritime species and also for agricultural species.
Fishing Licenses Andalusia Online